Welcome
I am a coach, mediator and facilitator working with the method of Process Oriented Psychology by choice, passion and love. Work is a pleasure for me because I love what I do. After many years of searching, I found my way of life and I am happy to help others to find theirs. It is a great joy to accompany others in getting to know themselves, their full potential and their unique inner power in life and work. Human relationships, including the way people relate to themselves, fascinate me. I am very interested in the dynamics of human influences and interactions.
As a mediator, I enjoy helping people with communication and with arriving at a deeper understanding of a given situation. I am convinced that being aware of the key issues allows the parties to develop the most advantageous solutions.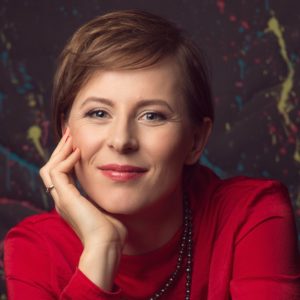 I completed foundation training  in Process Oriented Psychology. I also studied Coaching & Conflict Resolution, including many trainings and workshops that have enriched my skills and tools. I am currently pursuing further qualifications at the Institute of Process Oriented Psychology in Zurich.
I work in Polish, English and French language. I have conducted over 500 hours of coaching and mediation sessions. I also have many years of professional experience as a manager in an international consulting company and as a co-owner in a private company. I gained my MA from the University of Paris -Pantheon-Sorbonne in hotel and tourism management.
Privately, I am a woman, a partner and a mother. My husband and I are raising a Polish – French family, with three sons and dog.
I'm also an artist: I paint and make jewelry. I like to act and have time just for BEING.
I like a good food and wine. I love flowers, sun and sea;)
You are more than welcome to contact me at anytime.
Katarzyna Bequillard
Coach, Mediator, Facilitator
tel. +33 769 12 59 15
mail: katarzyna@bequillard.eu